have you ever wondered what the best thing on the planet taste like? well, here it is. these suckers almost didn't get a picture because we ate them so fast. My mother-in-law made these while I was up in Seattle and it was love at first bite. they have a lovely thick crust (like a buttery pie) and a juicy and "luscious" lemon top. I couldn't wait to come home and make them myself. this recipe was handed down to her from her mother.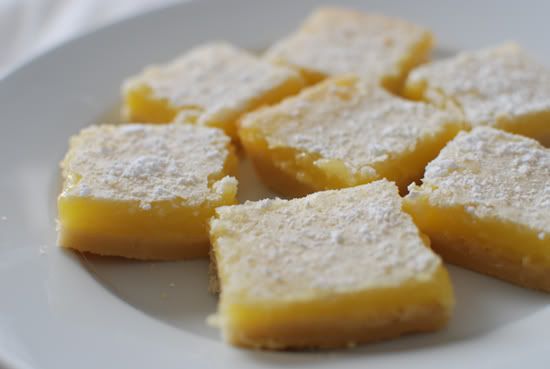 Dorothy Throssell's Luscious Lemon Bar Cookies
Crust:
1 cup soft butter 1/2 cup powdered sugar
dash salt 2 cups flour
-Combine all ingredients and mix well. Press mixture into 9x13 pan. Bake at 350 degrees for 15 minutes or until nicely browned.
Filling:
4 eggs, beaten 1/4 cup flour
2 cups granulated sugar 6 Tbsp. fresh squeezed lemon juice
-Combine flour and sugar, mix in beaten eggs and lemon juice. Pour into the slightly cooled crust. Bake at 350 degrees for 25 minutes, or until set.
-Cool and sprinkle with powdered sugar.