The last time we were at Jeremy's parents home, I raided Leslie's (my mother-in-law) cookbooks and recipe box for recipes. She is an amazing cook, and Jeremy raves about her meals growing up all the time. I tried to type as many recipes as possible until my fingers got tired.
I found this particular recipe in her recipe box, so this one Jeremy said his mom made more than once. It was fun doing something different with chicken. It kinda reminded me as a kid when my mom made us foil dinners for a camp-out that were super yummy. Don't remember what was in them exactly.
Anyways... here is a quick picture of the chicken foil packages before I wrapped them and put them on cookie sheet in oven.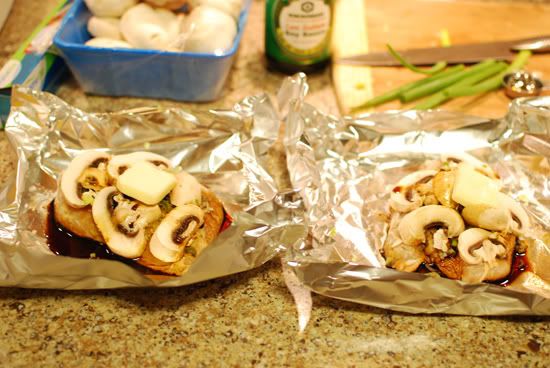 4 bone, skinned chicken breast
Dijon mustard
Flour
4 green onions, sliced
4 T. butter
4 mushrooms
4 T. soy sauce
Brush chicken on both sides with mustard. Roll in flour. Place on square of foil. Divide onions and mushrooms between breasts. Add 1 T. butter, 1 T. soy sauce to each package. Wrap and seal in foil. Bake 25 minutes at 350 degrees. Serve over rice.