This was one of me and my siblings favorite meals as kids that our mom would make. What kid wouldn't love Doritos in their dinner? I was chatting with my college brother earlier this week and he said he was making this, so I've been craving it ever since. A major bonus, a large bag of Doritos were on sale at Target for $2.50. This is a yummy home-style meal especially great for kiddos.
Here is a picture before I put in oven. I serve individually with sour cream on top. And also sprinkle some leftover chips on top for some crunch.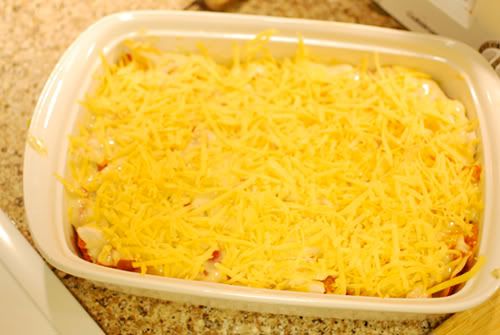 2 cans cream of chicken
1 can cream of mushroom
1 can Ro-Tel
1/2 cup - 3/4 cup water
1 big bag Nacho Cheese Doritos
2 chicken breast, cooked and shredded or cubed
Sour cream (for topping)
combine all can ingredients, and add some water to make it a little soupy (no too soupy). Layer half of chips, then half of chicken, then half of soup mix. Repeat layers, then top with shredded cheese. Serve with sour cream.