I recently made this
EXTREME banana nut bread from allrecipes.com
.
It is the very non-healthy version- and TASTE LIKE CANDY!!!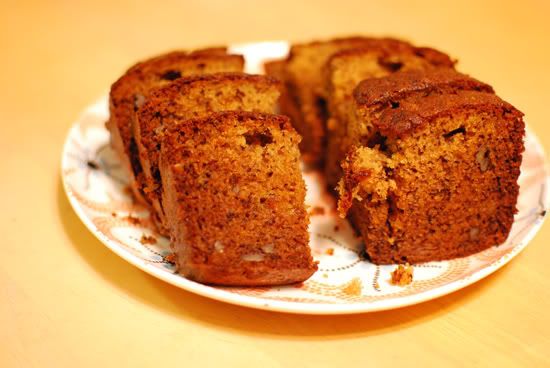 I usually make just half the batch- since I only have one loaf pan and usually only have a few over-ripened bananas at a time. So here is the recipe for just ONE loaf.
Ingredients
* 1 cup1 all-purpose flour
* 1/2 teaspoon salt
* 1 teaspoons baking soda
* 1/2 cup butter
* 1 cup white sugar
* 1 cup mashed overripe bananas
* 2 eggs, beaten
* 1/2 cup chopped walnuts
Directions
1. Preheat the oven to 350 degrees F. Grease and flour 9x5 inch loaf pan.
2. Sift the flour, salt and baking soda into a large bowl. In a separate bowl, mix together the butter or margarine and sugar until smooth. Stir in the bananas, eggs, and walnuts until well blended. Pour the wet ingredients into the dry mixture, and stir just until blended. Pour into loaf pan.
3. Bake for 60 to 70 minutes in the preheated oven, until a knife inserted into the crown of the loaf comes out clean. Let the loaf cool in the pan for at least 5 minutes, then turn out onto a cooling rack, and cool completely. Wrap in aluminum foil to keep in the moisture.