This morning I was watching the "Today" show while rocking/feeding baby. They happened to be cooking a "low calorie and less than 30 minute meal". their words not mine. because after I was done, it definitely took more than 30 minutes (but still less than an hour, so that's good)... anyways I thought it looked interesting and different than anything i've ever made. i've never even thought of cooking with chicken thighs. and it turned out pretty good. i give it a 7.5 out of 10. It's called Apricot Chicken and Hash.
And here is the link to the Today show recipe.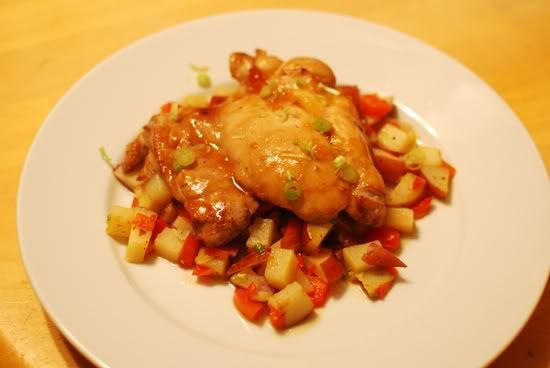 it's too bad whenever i'm taking pictures of meals/food i make its usually at dinner time when there is now natural light left. bummer. so my food pictures always turn out kinda dark and yellowy... but i still wanted to include a picture anyways, because i don't like making anything that doesn't have a picture.
INGREDIENTS
• 8 skinless, boneless chicken thighs (1 3/4 pounds)
• 1 tablespoon lower-sodium soy sauce ( i used enough soy sauce to coat all the chicken-i didnt measure)
• 1 pound red potatoes, unpeeled
• 1 large red pepper
• 3 tablespoons apricot jam
• 1 tablespoom fresh lemon juice
• 11/2 teaspoon vegetable oil
• 4 green onions, thinly sliced, plus additional for garnish
DIRECTIONS
1. Preheat oven to 425°F. In large bowl, combine chicken and soy sauce; let stand. Cut potatoes and red pepper into 1/2-inch pieces. In small bowl, mix jam and lemon juice until blended.
2. In large microwave-safe bowl, combine potatoes and ¼ cup water. Cover with vented plastic wrap and microwave on high 5 minutes or until potatoes are just tender. Drain.
3. Meanwhile, spread chicken on foil-lined 18-inch by 12-inch jelly-roll pan; brush with jam mixture. Roast 15 to 17 minutes or until meat is no longer pink inside.
4. While chicken roasts, in 12-inch nonstick skillet, heat oil on medium 1 minute.
5. Add pepper and cook 3 minutes, stirring. Stir in potatoes, green onions, and 1/4 teaspoon salt. Cook 5 to 7 minutes or until lightly browned, stirring.
Skim and discard fat from pan juices; serve chicken and hash with juices. Garnish with green onions.
Each serving: About 435 calories, 43 g protein, 44 g carbohydrate, 9 g total fat (2 g saturated), 5 g fiber, 164 mg cholesterol, 435 mg sodium.